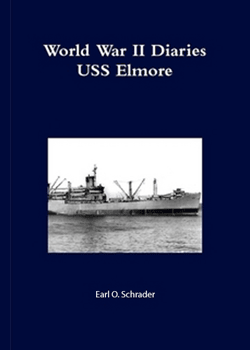 The years passed, as did my father in 1983. One day in 2017, something inexplicable occurred. Late one night, while sitting at my computer, I had an irresistible urge to google my father's ship. Over the years, I had already noted the
Elmore's
history and specifications in a Wikipedia entry and so I knew a lot about the ship. I even knew the ship's hull number by heart,
APA-42
. When I performed that search, an entry appeared about a World War II diary by a sailor on the
USS Elmore
. I was stunned, having never seen this item before. I learned that Earl Schrader, Chief Storekeeper, filled two diaries while serving on the
Elmore
in 1944 and 1945. The diaries had been stored away for some seventy years in an attic chest. His granddaughter, Robin Lee Hammond, found those diaries and transcribed them for publication.
What luck!
, I thought. Of course, I ordered the book immediately.
I waited, not altogether patiently, for the book to arrive. Lulu Press is part of the self-publishing industry. Their books are printed on-demand, taking two weeks to arrive after an order has been placed. But the book finally came and it was almost like being a kid again at Christmas getting the best gift ever. I read Chief Schrader's diary and was not disappointed.
Earl gave some amazing accounts of his time on the
Elmore
with insights and information that only somebody who was actually there could provide. These
World War II Diaries, USS Elmore
, gave me a priceless insight into what life was like for my dad while serving on that ship.
My curiosity was soon unbound. What started as a gentle rain of curiosity, became a torrent of interest and then a flood of questions. Did Earl know my dad? Why did his entries stop before the end of the war? Why didn't my dad write a similar war diary? Those questions, and many more, needed to find answers. An odyssey of discovery had just begun.
I have always been fascinated by the study of history and the stories of those caught up in the flux of events. Having recently retired, I had the time to engage in historical analysis. A plan formed. Since my dad had chosen not to write a diary, I would do it for him. My two sons had never met their grandfather, having died years before they were born. I would tell his story and introduce my kids to the grandfather that they had never known.
Head first, I dove into the project. I ordered documents from the National Archives: my father's navy records and the
Elmore's
Deck Log and War Diary. That set me back over $1,500. Cheap at any price, I thought. When I received the records, I was amazed to discover that the ship's log and war diary had not been declassified until December 31, 2012. That was just a few months before I had retired and nearly seventy years after their submittal to the Department of the Navy. I smiled at the thought that the Navy had waited patiently for me to retire before releasing those records for my project.
There were many other resources to explore. I discovered the ship's Muster Roll online at
Fold3.com
. That gave me the list of the crew, their dates of arrival and departure on the ship and their dates of promotion and, in some cases, demotion. The list of the ship's officers were to be found in the Deck Logs. Having worked in personnel administration for a large governmental entity in Chicago, I felt right at home with those records. This project had been waiting for me all my life. And now I was ready to begin.
I am blessed with a good sense of organization and logic, undoubtedly the result of earning a bachelor's degree in philosophy. The next step was to assemble a library. Within a few months, my collection of books on World War II in the Pacific had grown to well past fifty. As I thought about the project, it slowly occurred to me that this was more than just the story of my father or Chief Schrader. It was the story of the entire crew of the
USS Elmore
. I wanted to salute those men and their ship and their service to our country. Ultimately, it led to my desire to pay my respect to all members of the US armed forces, both active members and veterans. In the process, I wanted to tell the story of the
Elmore
and make it interesting and even compelling. And wouldn't it be nice if I could connect with other people that had family members who had served on the
Elmore
? It all became clear to me. I should start by creating a website about the
USS Elmore
and her crew. Only then could I write my dad's diary.